New McLaren Shadow signing Lucas Blakeley triumphed on Wednesday night, winning the two opening races of the 2022 F1 Esports Series Pro Championship, the official Formula 1 sim racing series presented by Aramco.
Starting on pole, the Blakeley, from Scotland, led away at the start, but had to overhaul reigning champion Jarno Opmeer in order to take the victory. In a perfectly-orchestrated move, he and McLaren Shadow teammate Bari Boroumand got past Opmeer's Mercedes down the main straight on Lap 21.
The new 50% race distance added a new element of strategy to the racing, with Opmeer running late into the race on the hard tyres to perform an overcut. He emerged comfortably ahead of Boromound and Blakeley, who lost ground after an intense scrap with Frede Rasmussen, and new Haas signing Thomas Ronhaar.
Pro Exhibition champion Ronhaar was enjoying an amazing debut, after qualifying second and running in the top five for most of the race. But when the four-car melee ensued, he picked up damage and plummeted down the order, eventually retiring.
Opmeer led going into the latter stages of the race, but the aforementioned McLaren Shadow pincer movement on lap 21 dropped his medal status from gold to bronze. Mercedes' leading man did bite back on the final lap, deposing Boroumand at Turn 1 to snatch back second, but Blakeley was a step too far, and he ended as the filling in a Papaya sandwich.
Behind the leading trio came a resurgent Simon Weigang, who on his Aston Martin debut more than doubled his 2021 points tally. Dani Moreno followed in fifth, followed by Sebastian Job, Brendon Leigh, Nicolas Longuet and Josh Idowu, the latter two of whom made their first starts for Alfa Romeo and AlphaTauri respectively.
Frede Rasmussen was originally classified in P10, picking up two penalties; one for corner cutting in-game, and another from the stewards for causing contact with Ronhaar.
However, the Dane was promoted to P8 after the in-game reprimand was rescinded, giving him four points. Longuet and Idowu nudged down to P9 and P10 respectively to complete the points.
The result puts McLaren Shadow firmly in command of the team standings after the first race, with Blakeley repeating his maiden victory in Bahrain 12 months prior.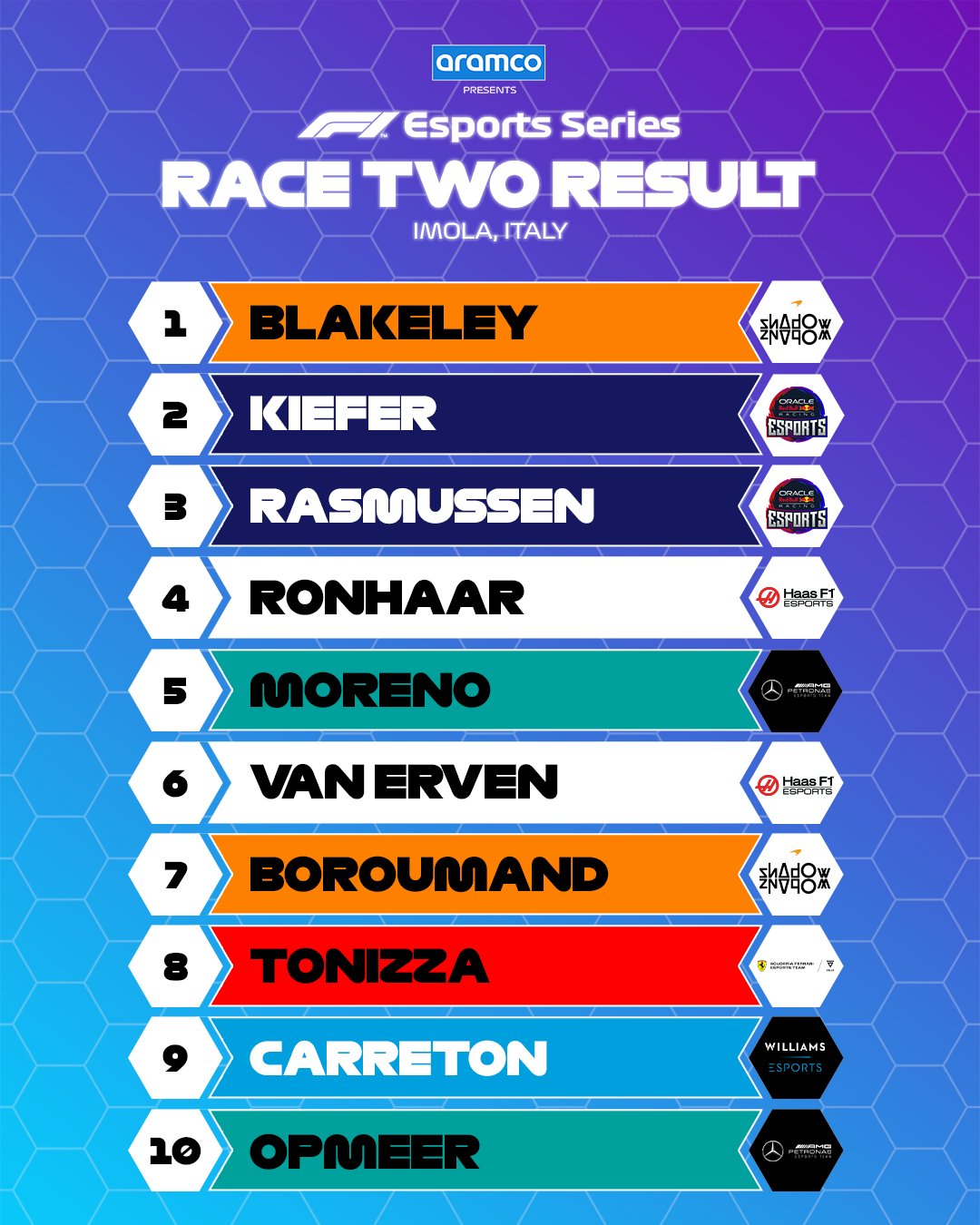 A day later, Blakely does it again in Round 2
Blakeley took his second win on the bounce on Thursday night, after a masterful display around the Autodromo Enzo e Dino Ferrari in Imola, Italy.
Fresh off the back of winning the season opener on Wednesday night around Bahrain's digital incarnation, the Scot had to fend off intense pressure yet again to secure victory. Pushed all the way to the line by Red Bull Racing Esports' Marcel Kiefer, Blakeley dug deep and never gave the German the opportunity.
Winning the first two races of the season is no small achievement. Brendon Leigh did it in 2018, and David Tonizza repeated the feat in 2019. With both drivers scooping that year's drivers' title, Blakeley is firmly cemented as this year's red-hot favourite, already boasting a 29-point lead after two races.
Onetime race leader Kiefer put up a fight and did well to finish second, leading home team mate Frede Rasmussen for a double-Red Bull podium; the Dane recovering brilliantly after a crash in qualifying.
Wednesday's race in Bahrain saw Blakeley and team mate Bari Boroumand work in unison, combining to confound Opmeer who ran on his own up front. It culminated in McLaren Shadow's first-ever double-podium in F1 Esports, with Boroumand taking third behind Blakeley and Opmeer.
Qualifying in Imola saw Pro Exhibition champion Thomas Ronhaar grab his first ever pole position, backing up the incredible one-lap pace seen on Wednesday, when he put it P2 on the grid. And while new faces flourished, old friends had a hard time of it.
2021 Imola poleman Josh Idowu bowed out in Q1, while home soil racers Brendon Leigh and David Tonizza – last year's winner – were just P12 and P15 in qualifying respectively.
Kiefer secured the other spot on the front row, with Blakeley third, and the sister Haas of Matthijs van Erven fourth. Rasmussen crashed out in the latter stages of Q3 and wound up P9, sharing the fifth row of the grid with Opmeer.
Kiefer got the better getaway of the two at the front, and powered into the lead by Tamburello, getting past Ronhaar and bringing Blakeley with him, into P2.
A fairly dramatic first lap saw Opmeer tagged from behind, dropping to near the back and ruining any notions of a fightback to the podium. Much like in Wednesday's race, the first half of the race was tame, but as soon as the pit stops began – with Rasmussen ditching his Hard tyres on Lap 14 – everything changed.
A canny undercut strategy from the Dane paid off brilliantly, as he emerged right behind team mate Kiefer one lap later when he pitted. When leading trio Blakeley, Ronhaar and Nicolas Longuet pitted a subsequent lap after that, Rasmussen found himself shuffled up to a net third place, jumping four cars.
There was plenty of jockeying for position, with Ronhaar getting Dani Moreno for P4 in the last few laps, finishing fourth behind Blakeley, Kiefer, and Rasmussen.
Moreno came home fifth, ahead of van Erven, Boroumand and a resurgent Tonizza who turned his P15 qualifying into eighth place come the flag. Simon Weigang took ninth, with Alvaro Carreton P10 rounding off the points. Opmeer just missed out in P11, after making up several places following his pit stop.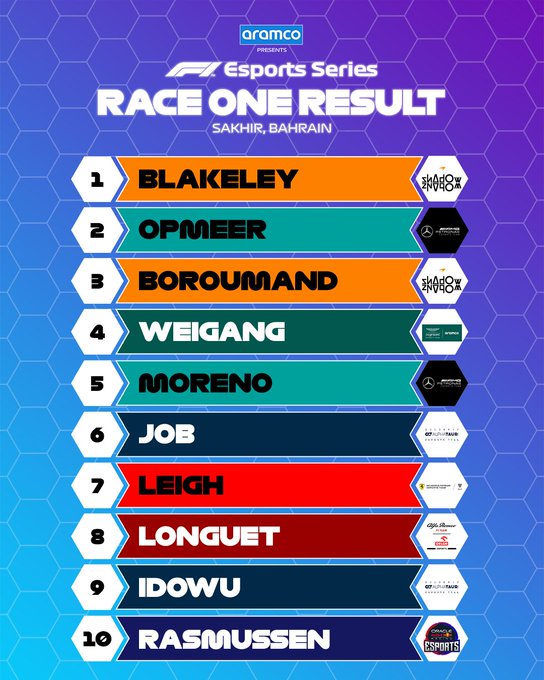 Brendon Leigh has done it three times. Tonizza, Opmeer, and Dani Bereznay, once each. And now Blakeley joins the group of back-to-back winners in F1 Esports. Nobody has ever won three in-a-row… can the speedy Scot become the first?
That question and many more will be answered on Friday evening, as we go racing once more, around Silverstone! Join us for qualifying from 1430 UTC, with the race stream beginning at 1830 UTC.
Hear @LucasBlakeley01's thoughts on last night's #F1Esports race in Imola. 🇮🇹👊 pic.twitter.com/EwLYFnGcFh

— McLaren Shadow (@McLarenShadow) September 16, 2022