Kartkraft for some is the ultimate sim racing title. With the Genk karting track being recently released is this another gem for the crown?
Mention KartKraft to some people in the sim racing community, and they swear it's the best racing, with Genk karting track being released recently we see a race review of the new layout.
Here we see captain flat spot putting the Kart through its paces at the new track, featuring a great introduction of the track before he gets to grips with some pure racing.
The Captain goes on to mention " Finally some new content for the excellent kart sim KartKraft. This time we got the Genk Karting track. In this video I do a 5 lap race at the new track against the AI set to hard".
About KartKraft
Master the skill of racing karts accelerating to 60mph in just 3.2 seconds with no suspension whilst fighting 20 other drivers. Learn what it takes to corner at over 2.5G while balancing on only three wheels as your engine screams at 21,000 RPM.
Hear your tyres squeal as they slide and deform, trying to grip the track. Experience the most advanced vehicle physics ever produced for a racing game with KartKraft.
Look the part and stand out from the competition. Kit up in the latest gear from Alpinestars, Arai, Freem, Momo, OMP and Sparco with more being added during Early Access content updates.
Dress the way you want by choosing the suits, gloves, boots and helmets to show off your unique style.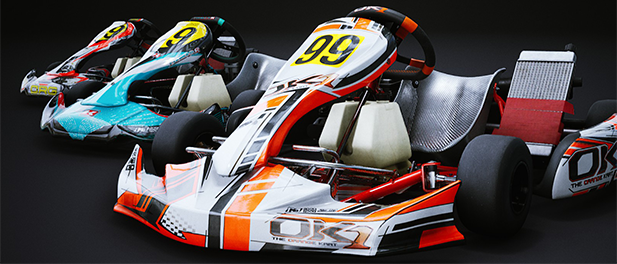 Looking for great leagues to join? visit our League Partners: League Partners Archives – SimRace247