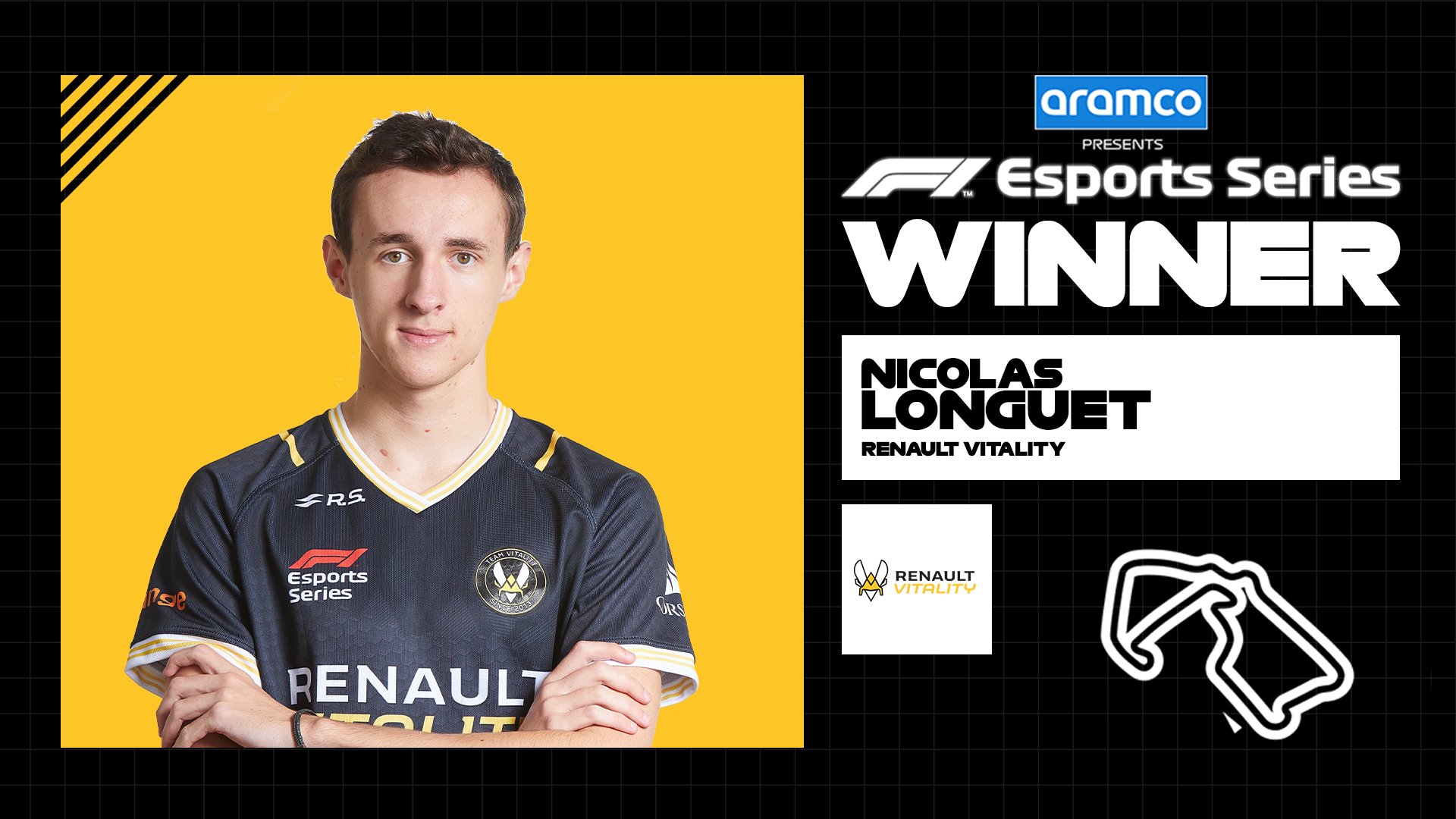 Renault Vitality scored its first win of the F1 Esports Pro Series after Frenchman Nicolas Longuet proved victorious in an epic battle round Silverstone.
Nicolas followed his win with two further points-scoring finishes at Spa-Francorchamps and Monza to keep Renault Vitality third in the teams' championship. Team-mate Fabrizio Donoso had a more difficult event, finishing out of the points in the third event in the 2020 championship.
Silverstone started strongly for Nicolas with a front-row start, setting him up for a hard fight throughout the race. Under pressure from the Red Bull of Frederik Rasmussen and McLaren's Dani Moreno, who stole P2 through the final corner, Nicolas brought the car home to score his – and Renault Vitality's – debut win in the pro category of F1 Esports.
Fabrizio lined up twelfth and finished eighteenth in Silverstone and bad luck continued to strike the Chilean in round two at Spa. After a brilliant P2 in the first segment of qualifying, a technical problem put him out in Q2, unable to realise his last attempt at a shot in Q3.
Nicolas qualified in seventh and thanks to an inspired race strategy crossed the line in fourth, with Fabrizio making up three places to twelfth. A post-race time penalty however dropped Nicolas to ninth in the final classification.
With Nicolas lining up eleventh and Fabrizio sixteenth for the final round in Monza, the race was always going to be tough. Caught in the DRS train it was difficult to progress and both drivers finished tenth and seventeenth.
Renault Vitality retains third in the teams' championship with three rounds remaining. The final triple-header championship decider will take place in Mexico, Suzuka and Interlagos on 16 and 17 December.
Nicolas Longuet: "Finally the team scored a long-deserved win at Silverstone, and what a race that was! Having to fight off both Red Bulls was not a walk in the park. I had mixed feelings from Spa as qualifying was not as good as expected, but in the race I had really good pace to fight my way through the field. Unfortunately, I was handed a penalty so in the end it was only P9 for me. Italy was my best track of the event, but there were no excuses, my mistake in qualifying put me P11 on the grid. Once you start in the middle of the pack like that, damage is very hard to avoid and that's what happened. The final event will be the hardest of the series as we need to defend third place in the teams' standings."
Fabrizio Donoso: "The event where I felt strongest just didn't go my way. Qualifying in Silverstone and Monza are my bad; I just didn't put the laps together when it mattered. I will make sure this doesn't happen for the final in a month. I still need to have an event without issues, but the team and I will do the best to avoid those next time. It's time to recharge batteries and work hard for the final rounds. My goal is to finish on a high and I will do exactly that."
Richard Arnaud (coach): "We wanted to set the bar really high for the third event. Unfortunately it has been an emotional rollercoaster. After the incredible race win at Silverstone that the team deserved, it went downhill. Spa is really difficult to accept and cost us a lot in the standings, and then we were not able to deliver in qualifying at Monza. On a positive note, strategies were on point, we always finished higher than our qualifying position on track, notwithstanding penalties. We are still third in the standings, but the fight is going to be hard against Ferrari and Mercedes. We will use those four weeks to recharge the batteries, and then give our best to finish on a high and end the championship on the podium."