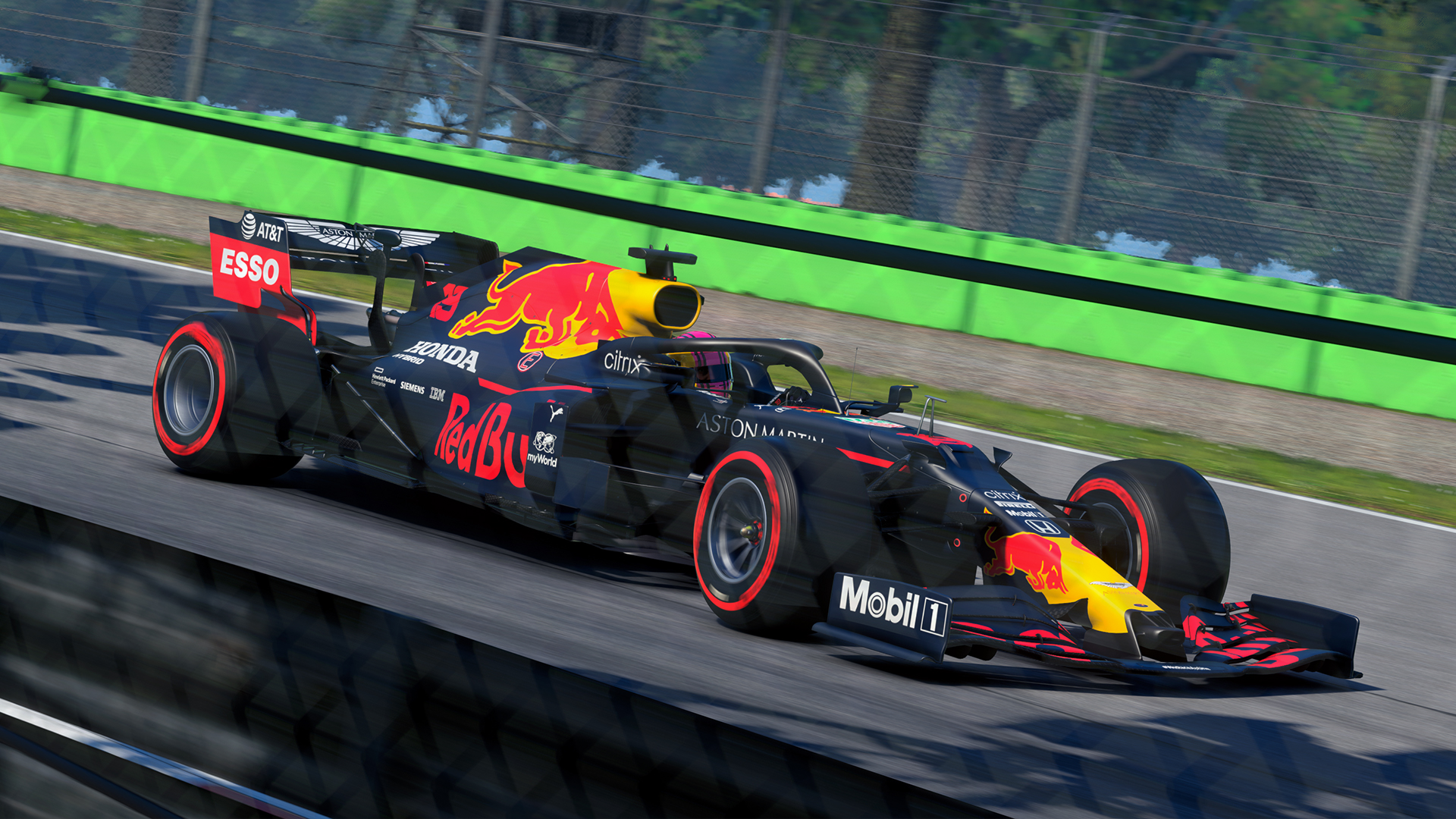 F1 Esports Series delivered a superlative twin-pack of races on Wednesday night, with Renault Vitality's Nicolas Longuet prevailing in Silverstone, and Red Bull Racing Esports star Frede Rasmussen taking the second win of the night at Spa-Francorchamps.
Longuet recorded his first victory in the series, while Rasmussen picked up his second of 2020. Both races were a mixture of clever strategy, patient defending, and explosive final laps. As a result, the championship standings look a lot different with just four races remaining.
LONGUET AT LONG LAST
Until Wednesday night, Longuet looked something of a distant shout for the title, more than two race victories behind leader Jarno Opmeer. However the Frenchman struck high in Silverstone in a race where Opmeer struggled, and took home a full 25 points.
The win was not a straightforward one, with Rasmussen attacking throughout the first race in Silverstone. The pair duelled wheel-to-wheel on the final two laps of the 18-lap race, with Rasmussen running wide as a result and picking up a penalty. Nonetheless the Dane held on and tried his best to stay ahead, only for McLaren Shadow's Dani Moreno to throw his hat into the ring, and clam his first podium too.
Longuet then recorded a fourth-place finish on the road in round 8 in Belgium, only to lose five places due to a penalty for a collision, ending up P9. Though disappointing to lose 10 points as a result, it means the Frenchman has scored in all but one race this season, and sits a strong fourth overall.
DOUBLE DARING DANIS
It was a great evening to be called Dani in F1 Esports. The aforementioned Moreno clinched a sensational podium in Silverstone, mixing it with the leading pair on the final lap, and giving McLaren Shadow their first top-three of 2020. Moreno's strategy was a strange one, but it was to be key in his ascent. Pitting as early as Lap 6, he adopted the soft tyres and ran them for the remaining 13 laps, a strategy not yet seen in the series. Whatever the case, it clearly worked…
Dani Bereznay made it two happy Danis on the podium in Silverstone, benefitting from the Red Bull pair who both received penalties. It elevated him from fifth to third, but he was not done there.
The Hungarian is notorious for his affinity at Spa-Francorchamps, scene of round 8 of the championship. He played a tense game of cat-and-mouse with the Red Bull Racing duo of Rasmussen and Marcel Kiefer, and at one point got through into the lead, passing Rasmussen on Lap 2. As the pit stops filtered the pack, Bereznay was stuck behind the pair once more. It harked back to Red Bull's resolute defence at the Red Bull Ring two weeks prior, but this time, the chasing Alfa would find a way through.
Bereznay caught the bus, launching a last-lap, last-corner lunge against Kiefer heading into the Bus Stop chicane, and managed to wrestle second place from the German. The high-risk, high-reward move stole the show, and Bereznay was crowned the Aramco F1 Esports Driver of the Day for the day, adding polish to an already successful outing.
STANDINGS
With the championships both reaching critical mass, Opmeer leads the way in the drivers' standings, on 135 points. Rasmussen is just 13 points back on 122, with Kiefer close by on 117. Longuet is fourth with 87, and Bereznay closes up significantly in P5.
Meanwhile, Red Bull extend their lead in the teams' standings with 239 points, with Alfa Romeo not too far back on 205. Renault are on their lonesome in third with 92, with the remaining seven teams all realistically capable of taking fourth!