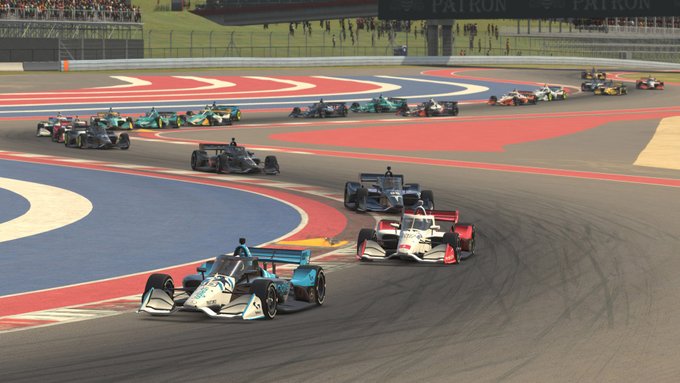 The Mercedes-Benz Virtual GP 2020 season returned after a summer break in a big style. A famous modern track COTA in Austin, USA, provided one of the most dramatic races in a while, including a battle for the win.
However, Simon Kovačič from Logitech CZC.cz eSuba knows how to utilize all his experience and he grabbed another victory. He was joined on the podium by Martin Štefanko from Benzina ORLEN and Lukáš Přáda racing for the Thrustmaster Next Level Racing FOR2A team.
It was clear already in qualifying, that this year's race at COTA is going to be something different. While the current championship leader Simon Kovačič from Logitech CZC.cz eSuba team took the pole position, it was only by 0.027s ahead of Erik Vizi from Benzina ORLEN team.
Both drivers then started to fight for the 1st place at the very start of the race. But, heading into a very tight Turn 1, they were joined also by Daniel Pásztor in a Lenovo Legion car. Vizi smelt an opportunity and he gave it everything. And it worked out, as just a few corners later, he managed to get into the lead.
On the other hand, Martin Koštialik from TP-Link and Kovačič's teammate Petr Kužela had a very different problem following a collision on the opening lap of the race. Also, Přáda brothers were showing their single-seaters pace, as they took very good places in the qualifying for the Thrustmaster Next Level Racing FOR2A team. That made the job even more difficult to Martin Štefanko, as the Benzina ORLEN driver had a lot of work to do after starting from only 6th place.
Just 7 laps later, the battle for the lead continued. However, Vizi did not manage the pressure, and just like a few months before at Daytona, the Slovak rookie spun out and lost a couple of places. He even almost dropped behind Lukáš Přáda in 3rd place.
After the first pitstops, Vizi managed to return at least ahead of Pásztora. The Lenovo Legion driver had a completely different problem, as he got under pressure from Vizi's teammate Martin Štefanko. That still was not as bad as Michal Blažek's race. The MOGUL Racing driver had several issues, including technical difficulties, and it all ended after an accident at the pit lane entry.
More drama came in the last 10 minutes of the race. First, Vizi made another error and finally dropped out of the podium places, to 5th position. Then, he was able to improve by 1 place following Pásztor's error. The Lenovo Legion even damaged his car, which later led to a big collision with a wall, after which Pásztor was forced to retire from the race, even though it happened in the last 2 minutes of the race.
But, if anybody was unstoppable, it was definitely Simon Kovačič. The Logitech CZC.cz eSuba driver took another fantastic victory and he is one step closer to winning a championship title. Martin Štefanko and his 2nd place finish for Benzina ORLEN came as a bit of surprise, as the 2017 champion now spends most of his time working with Williams Esports squad. Lukáš Přáda from Thrustmaster Next Level Racing FOR2A team then finished in 3rd place.
After 9 rounds, it is still Simon Kovačič leading the standings with 209 points, which is exactly 47 more points than has Erik Vizi, who is currently 2nd in the standings. Martin Štefanko then rounds up the TOP 3.
The Logitech CZC.cz eSuba team holds the 1st place in the teams' standings, but in this case, it's very close. The Benzina ORLEN team is only 7 points behind and there are no doubts, that we are going to see an incredibly tight battle for the overall win.
The Round 9 at Austin was just the start of this final sprint for the Mercedes-Benz Virtual GP 2020 season, which continues in less than 2 weeks time! And it will be another race on US soil, this time a temporary road course in Belle Isle.