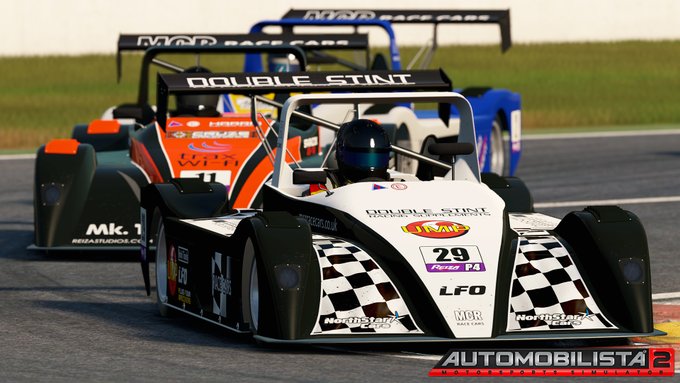 It's common knowledge that Automobilista 2 uses the same engine as Project Cars 2, but a tweet has got us questioning what actually distances the two games.
The tweet in question was posted by Wavy Thomas who shared some screenshots. It may seem subtle at first but when you notice it, you cannot miss it.
@ReizaStudios starting to feel like I wasted my money 🙁 it's pretty disappointing, please tell me stuff like this is going to get fixed. I know it's just menu screen but if stuff like this is broken how could players except even bigger problems to be addressed? #AMS2 #simracing pic.twitter.com/iReISuJpC9

— Wavy Thomas (@WavyThomas) July 26, 2020
As highlighted, the Automobilista 2 loading screen has simply been slapped on top of the Project Cars 2 loading screen.
The user raises concerns regarding a buggy load screen. If the load screen is 'buggy', what else could be wrong with the simulator?
However, Wavy Thomas is missing the point. If the load screen is ripped from Project Cars 2, what else is?
Reiza Studios first response was to clarify the resolution that this screenshot was captured on. 1680x1050px . A 16:9 aspect ratio. What seems to be the case is that Reixa hadn't accounted for the resolution when it came to programming the size of the loading screen splash image. The result is that the Automobilista 2 shot that is slapped on top doesn't hide the Project Cars 2 loading screen entirely.
The similarities between Automobilista 2 and Project Cars 2 have been questioned for some time now. Both titles use the MADNESS engine which was produced by Slightly Mad Studios. In fact, AMS2 is the first title to be released using the MADNESS engine which isn't developed by Slightly Mad.
Game engines give the framework for a game to be built around. This includes the scaffolding for sound, graphics, physics – even collision detection. It's clear to see that the graphics of both PC2 and AMS2 are at the least, very similar. I'll let you be the judge when it comes to physics.
But these similarities are to be expected. What isn't is for Reiza to just paste an image on top of the Project Cars 2 splash screen.
This can only indicate Reiza Studios sheer-incompetence, laziness and an unwillingness to further themselves. Simply put, it is an embarrassment. That is unless the screen had been "hardwired"  into the MADNESS framework by SMS and this error hadn't been noticed until now.
Regardless, there are questions to be answered by both parties with full explanations to boot. Until then, we can only question the credibility of both studios. Not to mention the ethics (and legality) of reselling a game at Triple A prices.