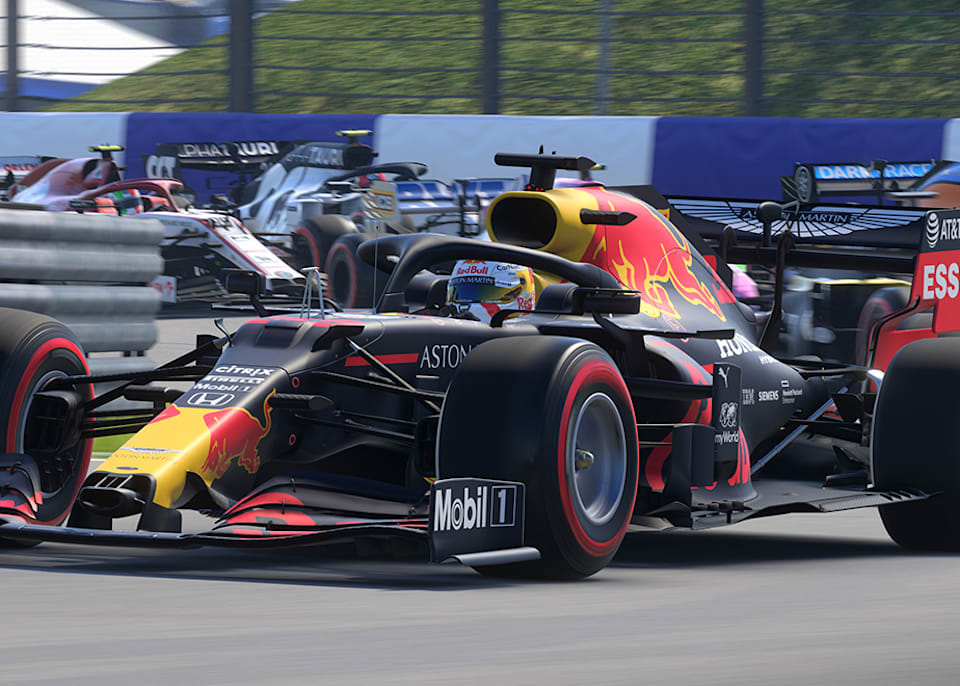 My Team is one of F1 2020's most exciting new features, letting you manage your very own team. We (Red Bull Gaming) have been chatting to Codemasters to find out how to master it.
The latest game from Codemasters isn't purely about driving, however and one of its most interesting new features is
My Team
, a game mode that lets you manage your very own team, taking part in everything from selecting and developing new drivers, to managing sponsorship and engine
If that sounds like a daunting task, don't worry, as we've got some insider tips from Codemasters themselves, with F1 2020 game director 
Lee Mather
 sitting down to answer our questions. So read on if you want to know how to top the podium in F1 2020's My Team.
What's the first thing players should consider if they want success when starting out in My Team?
Lee Mather:
 There are several key considerations to make before starting your My Team journey. For me, the visual appeal of the team is very important, so picking a great livery and identity for your team is something to spend some time setting up. I think the thing that most players will find challenging will be naming their team; it's harder than you think.
The next big decision will be your primary sponsor and the season goal attached to them. The amount of start-up capital that you have will impact which real engine supplier you'll be able to go for, versus which F2 team-mate you'll be able to afford.
What's best when it comes to picking an engine package – is it better to go for more power, or save money on the engine and spend elsewhere?
There are so many ways to progress in F1 2020 that I'd be crazy to try and predict the best strategy. It's also a personal thing for the user to determine what's most important to them. You could be selfish and work purely on having the best car to win the drivers' title, but you'd have to sacrifice your team-mate and the chance of taking the constructors' title. Plus, you won't win either if you don't invest in developing your car and an underperforming team-mate isn't going to contribute as effectively to improving many areas of your team.
What single factor do you consider the most important when it comes to success?
I'm sure all the teams in real F1 would love to be able to throw resources at one area of the team and start winning. As with the real sport, it's all about the entire team and the package. You must remember that all of the other teams will also be developing and improving, so it's important to develop a well-rounded team.
An interesting thing to bear in mind is that the balance of your car is influenced by how you answer the interview questions at the start of My Team. Because of this, you can mitigate some of the weaker areas by answering positively, or you can go all in on certain areas, then work on improving them via Research and Development.
Do you have any tips for players once they continue to get into the game?
It's all about balance, but something I haven't mentioned is finances. Staying solvent is key to maintaining and improving your team. That doesn't mean you shouldn't be spending, as investment is a must, but keep in mind that at some point you'll need to negotiate in the driver market to retain your team-mate, or even hire a new one.
You can sign F2 drivers and give them their F1 debut, but is it possible to achieve the same success as with more established drivers?
All the F2 drivers will improve over time, but that can be accelerated and influenced by how the player invests. Taking an F2 driver to the top isn't a quick process, but can be achieved if that's an area which you focus on. Of course, it's something other teams could also work on, but you also need to consider drivers retiring too. It's highly likely that some of the long-standing F1 drivers will also retire as part of the process of the players' career, which could see more of the F2 drivers competing in later seasons.
How important are the drivers you sign when it comes to attracting sponsorship?
The key impact on sponsorship through the team-mate you sign is the level of Acclaim that they bring to the team. All team income, be that fixed payments or bonus payments, are all scaled based on the level of driver and team acclaim you have. A driver who's performing well will gain more Acclaim and will therefore bring larger amounts of cash into your team.
It's also important to look at improving your Sponsor Relations within the marketing department. This in turn will help you build Acclaim quicker, ultimately contributing to your sponsor income. I should also mention that when starting your My Team playthrough you'll have one Primary sponsor slot. As you progress and earn team Acclaim, the player will open more sponsor slots on the car.
As somebody with insider knowledge, do you have any more tips for players that may not be immediately apparent?
So far, we've talked about the most significant new feature which we brought to the series in recent years, but it's not just about My Team this year. Adding in the new accessibility features, which are part of the Casual Race type option, are also key to allowing gamers of all skill levels to be able to enjoy F1 2020. If you love F1, but struggle with the challenge of the on-track action, then F1 2020 really opens things up.