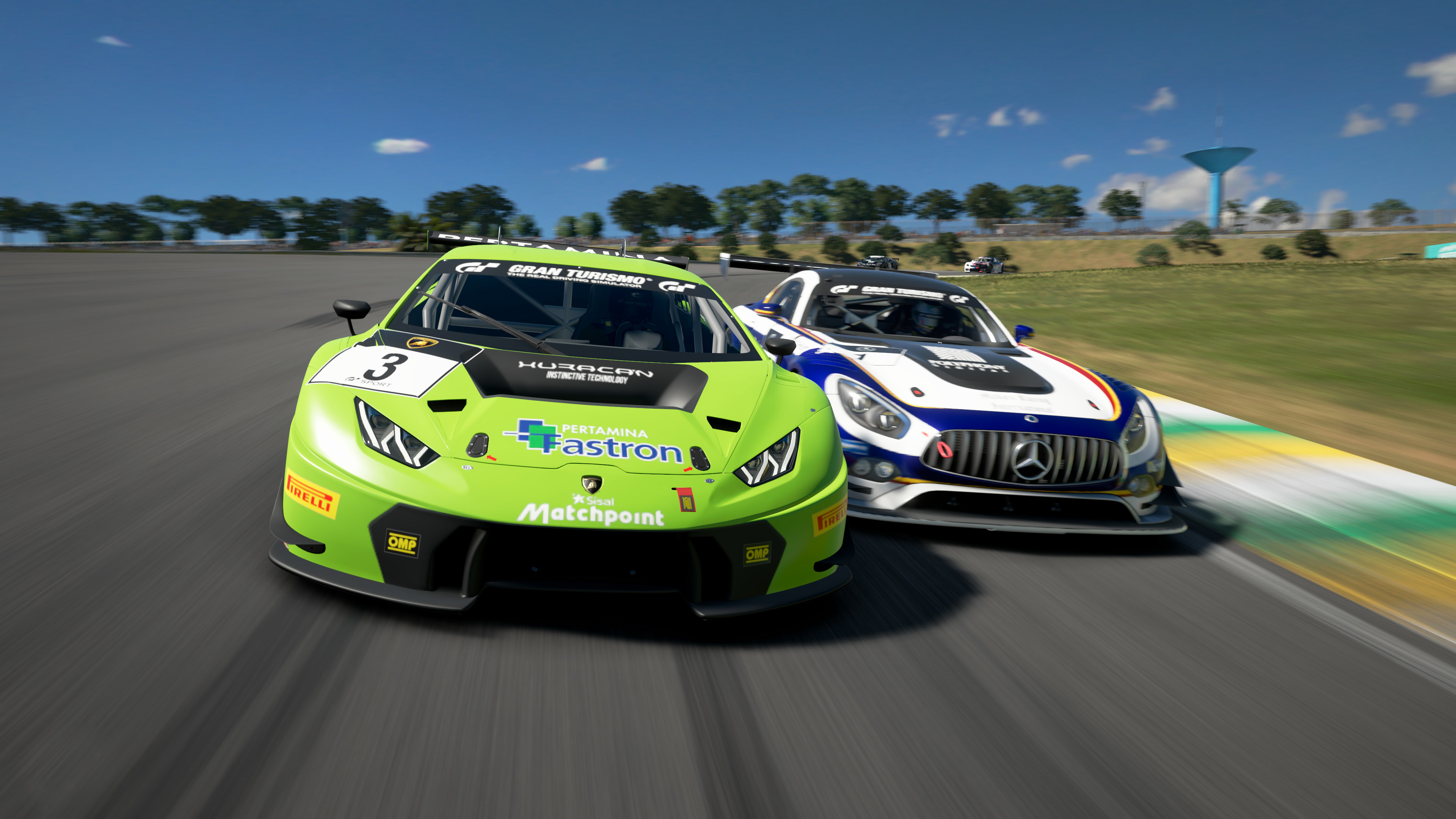 The photo agency's innovative partnership with one of the leading motor racing games aims to present esports in a different light.Getty Images, the international photographic agency, has heralded a new era in image capture in esports with an integrated partnership with Polyphony Digital, the video game developer behind the popular Gran Turismo motor racing simulation.
Under the deal announced this week, Getty is now responsible for the in-game photography from Gran Turismo's online and live World Tour events.
Like other businesses involved in sport, Getty has embraced esports in recent years, providing images from live events, including competitions in Gran Turismo, a PlayStation game in which players race in a variety of cars based on real-life models.
However, the latest partnership, which sees Getty serve as the exclusive photographic agency of the FIA Certified Gran Turismo Championships, takes the relationship to a new level, with the company's specialist motorsport photographers assigned to Polyphony Digital's in-game camera, and the company also handling the distribution of the still images.
The announcement comes after the two parties worked together throughout 2019 with Getty delivering imagery from inside the game at Gran Turismo World Tour events at the Nürburgring in Germany, New York, Salzburg, Tokyo and Sydney and the World Finals in Monaco in November.
Up to this point, our relationship with esports has been very much around documenting the events and distributing content from the events
Getty, which is this year celebrating its 25th anniversary, claims that the in-depth partnership will enable esports sponsors and suppliers to get greater rights and access to Gran Turismo content, while also allowing media to use the images to support their editorial coverage, all helping to engage with and increase the worldwide audience for the growing sector.
"We've had our eye on esports for some time," Ken Mainardis, global head of content at Getty, tells Sportcal Insight. "You'd have to be living under a rock not to appreciate that esports is about to become one of the biggest, if not the biggest, sporting activity of them all."
He adds: "Up to this point, our relationship with esports has been very much around documenting the events and distributing content from the events but always asking the question, 'how can we actually bring that same value that we bring to other sports, and get inside the action?'
"The [Getty] team came to me, certainly in the last 12 months, with the idea that there was going to be a genuine opportunity to be able to capture live action. That was the turning point to be able to start talking to games themselves about the content we could create. The move to in-game is a game-changer in this regard."
A partnership with Gran Turismo brings added credibility given that the title dates back over two decades, and, as of last year, had achieved global sales of 85 million, making it the highest-selling video game franchise exclusive to PlayStation.
Polyphony Digital is an arm of Japanese entertainment giant Sony Interactive Entertainment, and Gran Turismo 7, the next edition of the game, is set to be released for PlayStation 5 in the coming months although an exact date has yet to be announced.
For Getty, there is the added attraction that the Gran Turismo Championships are sanctioned by the FIA, motor racing's international governing body, while the series itself will benefit from images captured by expert motorsport photographers.
Getty has long provided images from events to support news coverage of top motor racing series, and has official partnerships with USA's Nascar and the Red Bull Racing and AlphaTauri Formula 1 teams.
The Gran Turismo game has achieved global sales of 85 million
Clive Rose, a sports photographer for Getty Images, says: "Our original pitch was that they [Gran Turismo] are working with the FIA… which is creating history itself."My thought process was it needs to be documented. We all look back on historical imagery now and it's lovely black-and-white images that people fawn over… People weren't really taking those pictures to document – that wasn't the main thing in their minds at the time – but now they're really interesting.
"With this digital era we felt that these international races are happening but we weren't sure they were being recorded in the same way. I thought there was a really interesting angle there to make sure that we kept this history and documented it."
The following for esports has accelerated in the first half of 2020, in part because events have been able to continue online while live sport has been suspended as a result of the global coronavirus pandemic.
This has prompted the likes of Formula 1, Nascar and the World Rally Championship to step up digital activity with additional esports and virtual competitions, often involving actual drivers from the series.
The Gran Turismo Championships will also have benefited from a greater share of exposure, with the 2020 season having got underway in April with the first stage of the online Nations Cup and Manufacturer Series. It continues with the third stage, to be held from 7 July to 8 August.
It's great to be able to directly transfer over the skills and knowledge from real world circuits and use them in the game
Asked how Getty's partnership with the series compares with those in traditional sports, Mainardis says: "I think it's very similar in the sense that the technology has allowed us to be able to deliver what we have delivered to Fifa, the IOC, the NBA and all the more than 80 partners that we work with.
"For a partner like Gran Turismo, having the ability to capture their event, to the highest quality, and then distribute it to our global client base, and to be able to work with the licensees and partners of the property, those things have always been the key drivers of our sports relationships. The move in-game has unlocked the potential to do that for esports properties and their partners."
Rose believes that esports competitions based on motorsports games will benefit from Getty's experience at actual races, and that photographers themselves will appreciate the increased level of access.
He says: "It's great to be able to directly transfer over the skills and knowledge from real world circuits and use them in the game. Normally you are restricted in the way you work in real life [motorsport] – you're not allowed to be in certain positions, you have to be a certain distance away or you can't go in a position when you'd most like to.
"From that perspective you have complete free rein [with esports], which is great but you don't have an infinite amount of time. You have to choose your shots very quickly and wisely otherwise you just spend hours going round in circles trying to perfect each individual shot.
"This is what you would expect from the virtual world but when you're trying to deliver imagery on deadline, you now have an infinite amount of choice. It's great to be able to transfer over the skillset but it also brings new challenges."
Getty's partnership with Gran Turismo could help develop specialist esports photographers
Building on the partnership with Gran Turismo, it is perceived that Getty can help develop specialist esports photographers, and produce enhanced imagery for series based on other sports simulations and games.
"As with a lot of breakout scenes and sports, there's a lot of opportunity for people who are not necessarily professional photographers nor work in those spaces," says Rose. "The [esports] content I've seen has been good and creative but obviously there's an opportunity there to photograph it in the same way you would real life [sport].
"I definitely think there's room to help, if it's required, the people that are there and want to get better at photography and taking shots. There could be virtual motor sport photographers who can't afford to do real world but make a name for themselves and maybe end up coming to work for the likes of us. There's a lot of focus on the drivers going from the digital realm to the real world but I actually think it's a great training tool for imagery as well."
He concludes: "I think in the beginning the sports simulations will lend themselves very well to this crossover. We live in a very content hungry world now and everybody wants images to go with information and quickly.
"But that's not to say that things won't evolve in other areas of esports. Maybe people haven't really thought too much about how to do that and this will help drive the conversation on how we can use our in-game imagery for a shoot 'em up title or one of the other popular games out there. These are all things we're discussing and trying to come up with strategies for so it's certainly not limited to sports."