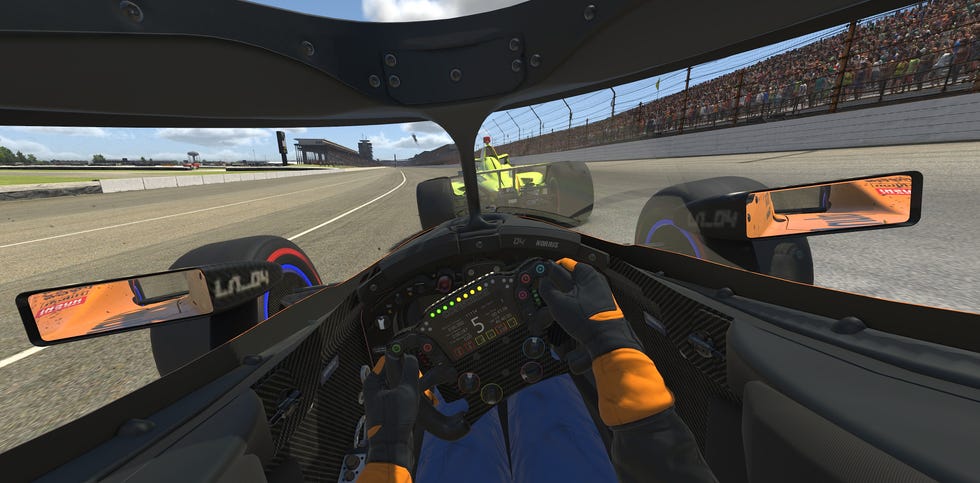 Cat-like reflexes and supreme decision-making skills are central to a professional race car driver's success. With motorsport's recent turn towards all things eSports during the COVID-19 pandemic, we've been regularly reminded of how those track-honed skills do not automatically apply to sim racing.
From the outset, real racers gained new appreciation for the computer-specific talents held by the best sim racers, and in select instances, stars and champions from Formula 1 to NASCAR demonstrated excellence in iRacing and other virtual platforms.
Far from a revelation, real racers found the simulations were nothing like the real thing. Capable of winning the actual Indy 500, some of the sport's finest found thriving in the virtual Indy 500 to be an unachievable dream. In saying so, they drew the ire of those who prefer such truths to go untold as gag orders were implemented by the affected series.
But to the non-sim racing fan, the dissenting voices and questions of realism were largely meaningless as most major racing series received invitations to present their virtual competitions on network and cable television. In the absence of true on-track action, sim racing proved to be a surprisingly popular placebo as well-known announcers and pit reporters added welcome layers of familiarity to the productions.
From March through May, it's here where sim racing took an important turn as its profile skyrocketed with every broadcast. Formula 1, NASCAR, IndyCar, IMSA, Trans Am, SRO Motorsports America, Formula E, the 24 Hours of Le Mans, and various vintage-themed events took to ESPN, NBC, NBC Sports, FOX, FOX SPORTS 1, CBSSN.
It also led to the cross-generational journey where middle-age racing fans joined their kids and grandchildren on Twitch to directly follow their favorite drivers' eSports exploits. Depending on the driver, Twitch was either a goldmine or a landmine; IndyCar stars Will Power and Conor Daly uncorked humor that left their audiences enraptured while a few others, possibly thinking they were in a safe space, blew up their worlds with live-streamed darkness.
With more time and context to apply, we'll know where to place the great sim racing experiment of 2020. At minimum, we won't need to wait to confirm the quality and volume of gut-punch headlines. Financial tolls associated with the coronavirus were expected to force a number of race car drivers into the unemployment line, but at last count, it was iRacing-related asshattery that led the category with two casualties. It's a small number, of course, but it should be zero.
The most memorable ink came from NASCAR driver Bubba Wallace rage-quitting an event and losing an obscure associate sponsor from his real Cup ride, and another NASCAR driver, Kyle Larson, using the n-word and losing his stock car career. Where stock car drivers opened the account, open-wheelers took the baton and seemed to delight in adding to the nonsense as reigning Indy 500 winner Simon Pagenaud sought incident-related retribution at the virtual Brickyard and stalked Formula 1 driver Lando Norris until he crashed the leader out of contention. And with the race on the line, IndyCar's Santino Ferrucci thought it would be humorous to crank the steering wheel and hit rookie Oliver Askew as he was one-second away from victory.
Norris' post-race video forensics showed Pagenaud's intentional payback to be something other than the genuine mistake he proclaimed, and Ferrucci, already on thin ice with fans, wasn't allowed to play the Askew crash off as good-natured video game mischief.
Barring Larson, whose life was upended within 48 hours of his flirtation with a word he doesn't own, the dumbest headline to come from the sim racing jamboree belongs to former German factory Audi Formula E pilot Daniel Abt. Like Ferrucci, Abt took the just-kidding route after it was revealed he used a sim racing expert—a ringer—to take his place in a Formula E iRacing event. Admittedly terrible as a sim racer, Abt had his ringer dress in Audi Sport clothes and ensured his face was obscured while racing. Combined with jumping from the back of the field to the front, the plot was easily unwound as fake-Abt was outed by his rivals and the series. A stiff fine, followed by his dismissal from Audi, answered whether the company bought his excuse about the entire deception affair being a pre-scripted eSports prank.
We can only assume Abt, whose family has long racing ties with Audi, has poor short-term memory.
It was Audi who revolutionized the use of diesel engines in motor racing from 2006-2016 at the 24 Hours of Le Mans. The four-ring brand also withdrew from the sport amid the biggest auto scandal of the century as Audi's sister brand Volkswagen sparked a global furor over 'Dieselgate.' For almost 10 years, it was found VW's range of diesel-powered cars (and some from Audi) were manipulated via software to cheat their way past diesel emission testing.
Disgraced after being caught in its attempts to deceive, the Volkswagen Audi Group has paid more than $30 billion in fines, buybacks, and corrective measures. This might just make a factory driver, especially one being paid to race for a brand whose most famous racing exploits were terminated in the wake of a cheating scandal, to think twice about concocting a scheme of his own involving cheating and deceit during an eSports event while representing Audi in Formula E's iRacing championship.
If it were any other brand, Abt would still be employed. Instead, he chose the one manufacturer with the greatest sensitivity towards cheating.
Separate from racing's three-month burst of eSports, lasting benefits with iRacing were reaffirmed that are expected to play a permanent role long after COVID-19 has passed.
"I started sim racing when I first started real racing," says NASCAR driver Parker Kligerman. "That was around 2002, and I saw what it was able to do for my career. Sim racing was huge for me when I wasn't able to race, and it felt almost like the '10,000 Hour' theory of being able to sim race every single night to develop skills and things that I would never have done by not having the money or opportunity to be in a race car all the time.
"And then with the rise of eSports, it just became pretty obvious to me that motorsports had the biggest thing to gain of any major sport in the world from this explosion, because we have this massive financial barrier of entry to motorsports that stops a lot of people. And sim racing can effectively smash that and lower it down to a couple hundred bucks to eventually get a wheel and a computer and you can start racing.
"What happened over this pandemic in terms of the sim racing attention, I thought that was something that would happen naturally over the next three to five years. I didn't expect it to happen over the course of three months. Everyone knows about it now. And for the talented ones who are just getting in now because of this rise, within a year or two, you could make it to the NASCAR iRacing series and suddenly be a paid race car driver in a sense and fighting for huge prizes and life-changing money. And then hopefully put yourself in front of the owners and sponsors and that sort of thing and maybe parlay that into a real driving career. I just don't see how it doesn't happen."
By chance, the pandemic has pulled back the cover on the longstanding importance eSports have played for certain auto manufacturers and racing teams.
Dating back to Nissan's GT Academy program that broke new ground in identifying and transitioning the most talented sim racers into real-world professional motor racing, an undercurrent of eSports evangelism has been in place, but shared, however, within a small congregation of believers. Since March, sim racing has been brought to the masses, and for some, like the McLaren Racing Formula 1 team, ongoing eSports projects have also received new and valuable recognition.
It's by no means a gold rush, but there's money to be made in sim racing.
"I think the value twofold," says McLaren communications director Tim Bampton, whose team launched the World's Fastest Gamer initiative in 2017. "One is the direct value where partners wish to engage with our eSports platform. And so our existing partners and specific partners to our eSports program see value in being able to activate and exploit our platform to reach our fan base. And that fan base is booming because of a new, younger demographic. At this moment in time, it's a generation where the attention is diffused and is not traditional in terms of the linear viewing experience, so it's another way to engage a digitally savvy generation while many racing top echelon series like Formula 1 or IndyCar are figuring out how it's going to engage the younger generation and a new generation of fans. So the value is there with eSports is in terms of it being a legitimate marketing platform for our partners to either extend their partnership or partner with this specifically on these sports in their own right.
"Secondly, back to the point about building our fan base, eSports is another valuable way for the McLaren brand to expand and continue to build its fan base. eSports is a mainstream activity now. It's gone beyond the point of a niche, burgeoning, slightly subculture thing. And in terms of value, increasingly, when we look at the financials of participating in things like the Formula 1 eSports championship, it has moved to something that is partnered by real brands, real partners, real sponsors. And so as a team, we were able to realize that financial component with them."
Sim racing, decried as 'fake racing' or 'video game racing' by some, will never be embraced by its most ardent detractors. This divide also falls along generational lines.
"I saw some people say, 'Oh, how is this good for racing? It's going to replace it,'" Kligerman says. "I keep having to remind people, 'It's a simulation of real racing. If there's no real racing, we've got nothing to simulate. So then we've got an issue. But I just think in the ecosystem of motor sports, it can have a huge effect to hopefully get more people involved than ever before which can only be a good thing. It isn't for everyone, but nothing is."
As pure entertainment, sim racing had its moments during the coronavirus shutdown. For the racing series who treated it like something real, the eSports events often struggled to deliver compelling action. Elsewhere, as Dinner With Racers took its eSports league in an increasingly ridiculous direction as monster trucks and sprint cars competed at Le Mans, and the LCQ League, comprised of pro racers driving odd vehicles with no practicing allowed, made no effort to pass itself off as a serious endeavor, legions of fans were presented with laughs and merriment that offered a respite while sheltering at home.
In time, we'll likely look back at this three-month coming out party for sim racing as the launching pad where many of racing's next-generation starts got their start. And boy will we have some interesting 'What Ever Happened To?' stories to write.