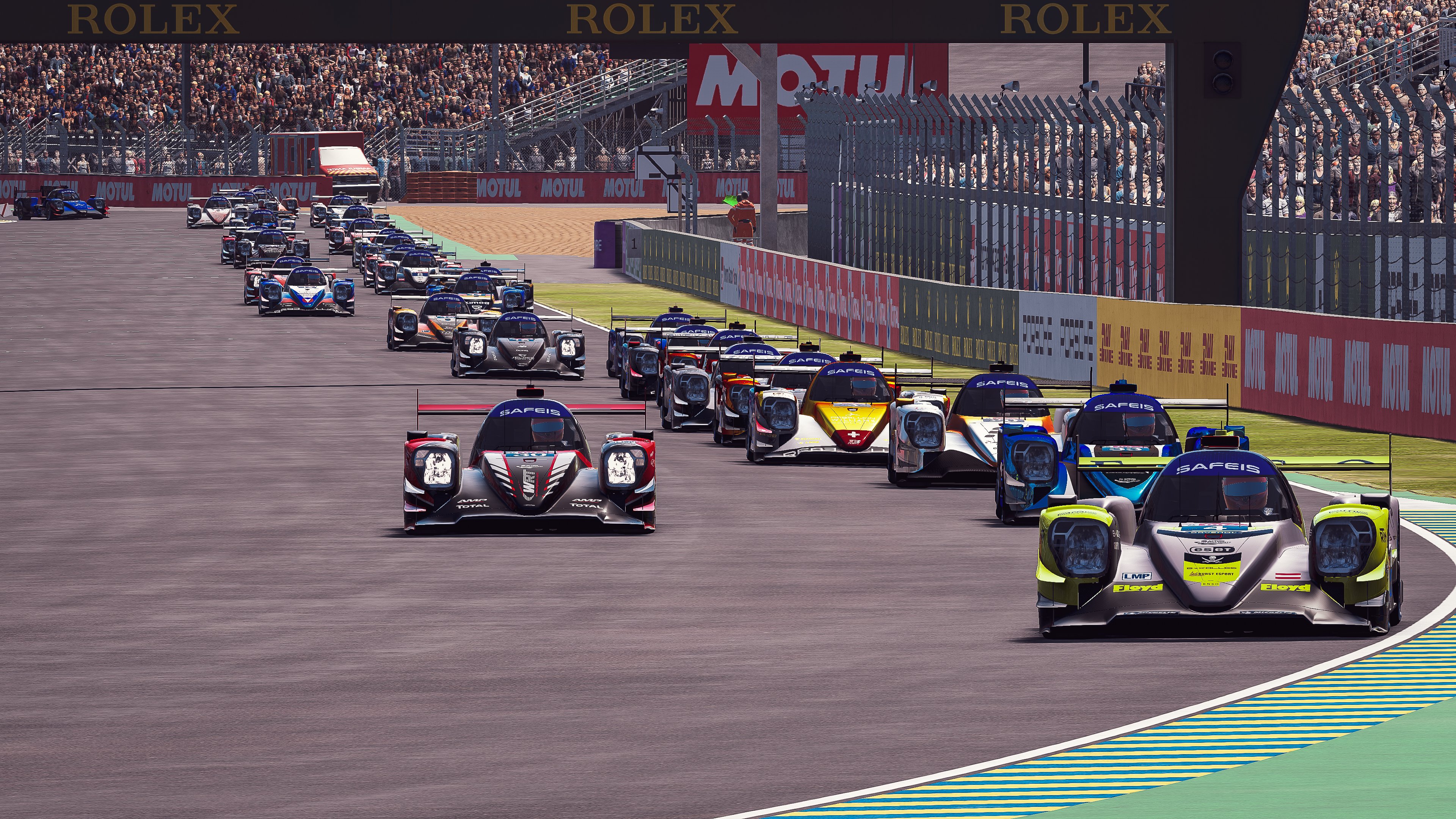 The first six hours of the first-ever 24 Hours of Le Mans Virtual has been action-packed with several different leaders across the star-studded LMP and GTE categories.
✅And the #LeMans24Virtual is ON !
Have a good race ! pic.twitter.com/l3KbzTw5g8

— 24 Hours of Le Mans (@24hoursoflemans) June 13, 2020
Below are the headlines at the race's quarter-way mark.
LMP
•    No. 33 2 Seas Motorsport entry (Al Khalifa/Rowland/MacDuff/Braune) leads the 30-strong LMP field with MacDuff at the virtual wheel going into the race's seventh hour
•    Just one second behind the leader is the No. 20 Team Redline entry with Formula 1 drivers Max Verstappen and Lando Norris sharing driving duties with sim racers Greger Huttu and Atze Kerkhof
•    Third in the LMP category are pole-sitters ByKolles – Burst Esport, the team doing a terrific job of making their way back up the leaderboard following their penalty for a jumpstart at the start of today's race
•    The No. 16 Veloce Esports 2 entry is currently fourth with Stoffel Vandoorne undertaking his second stint at the wheel
•    Rounding out the top five is the No. 10 Toyota Gazoo Racing Argentina entry
•    The race was red flagged in the race's fifth hour, with racing resuming approximately 30 minutes later
•    Following the red flag, teams could restart with new cars – effectively cancelling out damage and closing gaps.  This also meant that the No. 14 FA/RB Allinsports entry was able to restart with Fernando Alonso's team resuming the race at the back of the field after their stop earlier in the race
•    Four manufacturers – Porsche, Corvette, Aston Martin and Ferrari – currently make up the top five in the highly-competitive GTE field
•    The pole-sitting No. 93 Porsche Esports Team leads the class, the Porsche 911 RSR entry just 2.281s ahead of the R8G Esports Team (Corvette C7.R) in second position
•    Third is the No. 92 Porsche 911 RSR with Jeremy Bouteloup presently at the wheel
•    Aston Martin Racing's No. 95 car and the No. 52 Ferrari AF Corse entry are fourth and fifth respectively
Darkness has fallen in the #LeMans24Virtual deep into the eighth hour. @MB_Whitelilac is doing a strong job in the top five in the #95. @RossGunnRacing has charged up to P12 and @ceastwood28 has dragged the #97 from the bottom of the scoreboard. Here we come boys and girls! pic.twitter.com/CcOMwUpRUa

— Aston Martin Racing (@AMR_Official) June 13, 2020
Watch Live Stream Here>>>
Live timing can be found Here>>>
Don't miss a minute of the action… follow the 24 Hours of Le Mans Virtual LIVE.