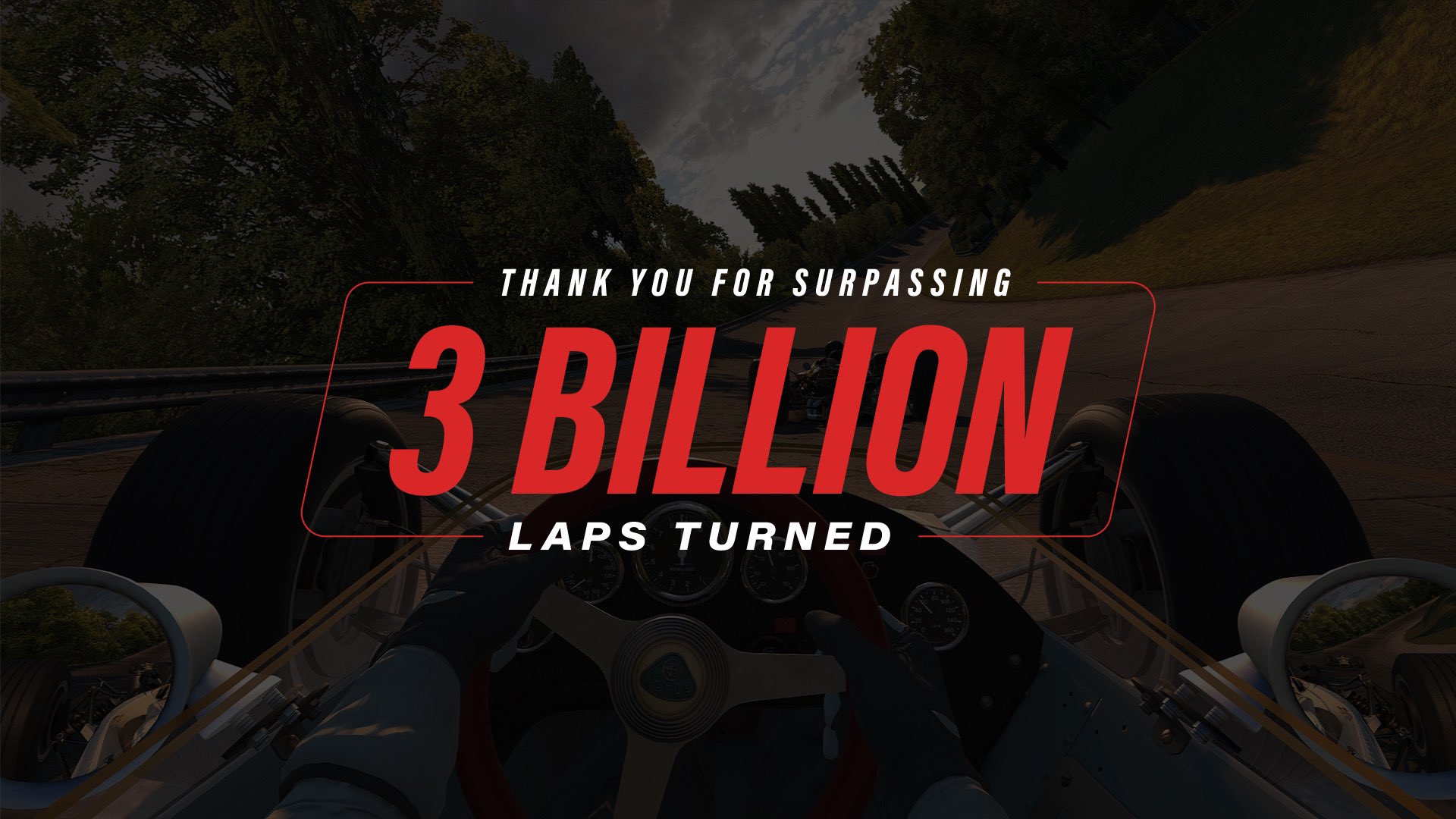 The collective lap ticker on iRacing's members interface ticked over to 3-billion this week, making it by far the most driven sim on record and as a result the sim of choice for most of the pro sim racing world.
Fittingly the premier simming platform tipped their hat to the Grand Daddy of sims, namely Papyrus' Grand Prix Legends, with an image of the Lotus 49 on the old iconic banked Monza.
From us at simRACE247, congratulations on the milestone and it's pretty certain the next 3-billion will come a lot sooner.
A brief history of iRacing:
iRacing.com was founded in September 2004 by Dave Kaemmer and John Henry. Now the CEO of iRacing, Kaemmer previously cofounded the Papyrus Design Group, developers of award-winning motorsport simulations that include NASCAR Racing: 2003 Season and Grand Prix Legends.
Many of the talented programmers and artists from those legendary racing simulators were chosen to work on iRacing. An active racer in the real world, Kaemmer won 19 races in the Skip Barber Racing Championship and held the series' lap record at Lime Rock Park.
Fellow co-founder Henry is the principal owner of the Boston Red Sox and Liverpool Football Club; he's also an avid simracer and the co-owner of a leading NASCAR team, Roush Fenway Racing.
The iconic iRacing logo is a fixture at racetracks around the world. From the NASCAR, IMSA Sports Car Series, Australian Supercar Series, SCCA Pro and Club races — wherever there's racing you'll find iRacing.
At iRacing.com, our bonafide racing roots are hard to miss. The team's collective real-world racing resume includes professional experience in Formula One, SCCA, IMSA and more.
Much of what our racing simulator is able to capture — which allows it to blur the line between simulator and reality — is a testament to our time spent behind the wheel. From amateur to professional races, our team's broad racing experience is readily visible in our unrivaled racing simulator.
With the clout of a Daytona 500-winning team owner aboard, as well as NASCAR, Indy- and sports-car race team managers and engineers, and award-winning motorsport writers, we have assembled a team to create the benchmark for all other racers.
At iRacing.com, not only are our offices and cubicles adorned with racing memorabilia, but most of our workspaces also feature a steering wheel mounted to the desk. We are passionate simracers. iRacing is the combination of our passion, real-world racing experience and simracing background.
3 billion is an incredibly large number.

Thank you to everyone who has contributed by playing iRacing! pic.twitter.com/lKU9q0WCXI

— iRacing.com (@iRacing) June 10, 2020